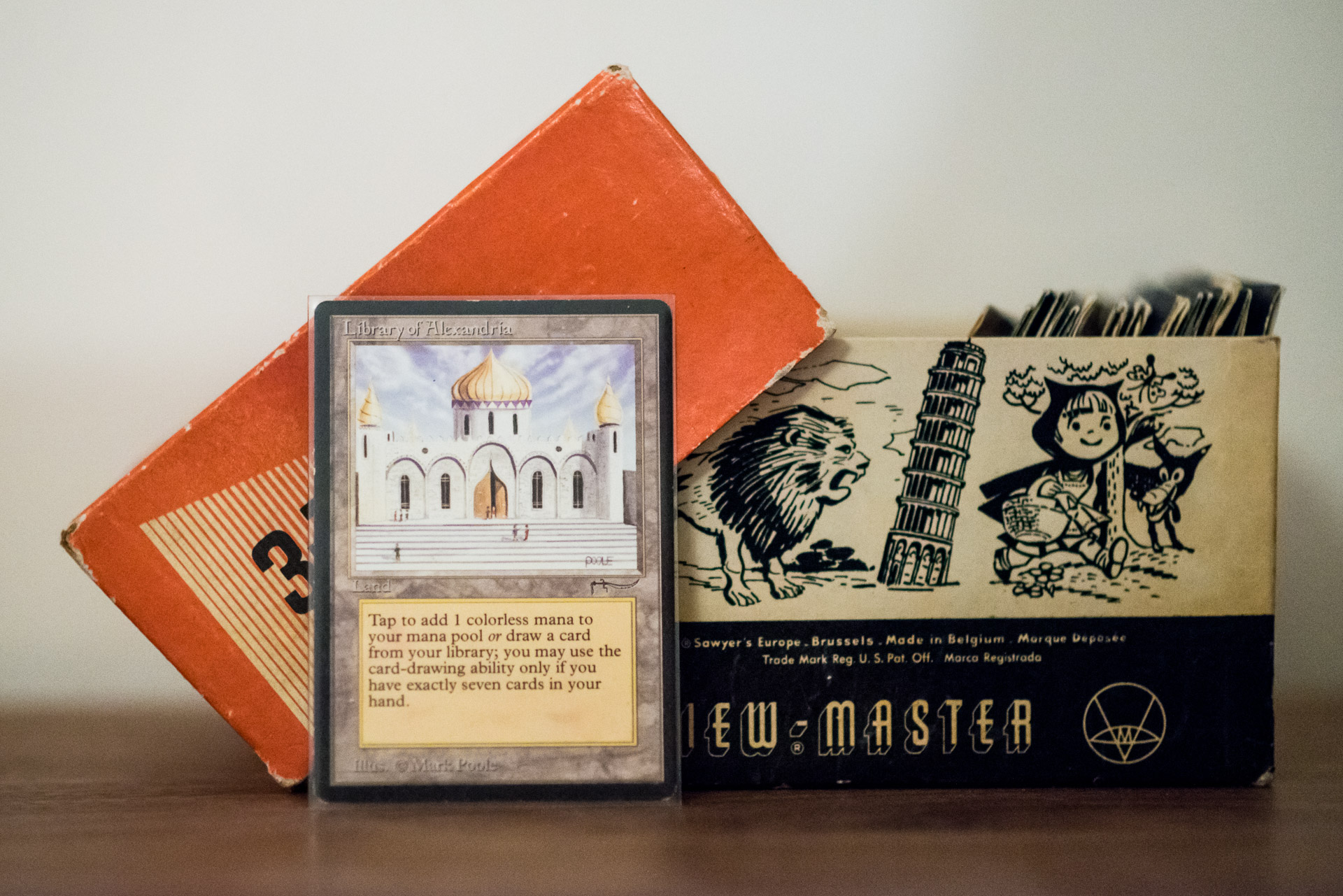 "Keep."
"Keep."
Smiles all around.
"Good luck." Or something in that manner.
You sit there with your opening hand, the game hasn't really started yet but it starts to progress in your mind. "First I'll play that card, then my opponent might do this or that … land, pass … land."
But wait! It's not an ordinary land no, no. It's Library of Alexandria. So it goes … and maybe you will have your hopes up for that single Strip Mine in your deck on top of your library. But no luck. You could've drawn Tutor to go fetch it even but all this … hoping is just a big ol' bag of shitty mistake to begin with.
More smiles. My smile is a bit grumpy at this point though. Maybe we see a shrug from my opponent. A shrug that states that this is a game, and I might not like winning this way but it could very well have been you that did this to me. We have both agreed upon terms, time and place for this to go down. I keep looking at my opponent, trying to point out, without words how unfair it is. He keeps his gentle smile. This, it says, this here- my beautiful white marbled library with perfectly illustrated golden domes, domes that just point up at the rather nice weather that the people walking the stairs seem to be having. Not too hot, not too cold! This, this is a part of all the crap we've decided on. And sometimes it's good crap, sometimes it's bad crap. You know, as a kid, I have always dreamed of owning this little paper card, and here we are. We are in understanding about the situation we got going. And then you look down at your hand, your bleak future. You can't keep up with two cards a turn when all you do is trading resources. But then you tell yourself that this is just a silly game, it doesn't matter in the big scope of things. It's all about spending time with some nice people and having a good time … But I'm not having a good time!
Sometimes, Magic is a bit like a game of Monopoly. It's all laughs and shit- a great time with your family. Someone farts or make a joke on your expense and everyone points and you and they laugh. You just take it because it's all good, we're all good. But then the dice lands you on some crazy fucking expensive residential street that you don't own. That's when the farts and jokes ain't funny no more. This is when shit gets real and you go Christian Bale ballistic and totally freak out.
"Hey! Calm down, it's just a game. I will lend you the money."
"I do not want your fucking money."
"It's all good. We're just having a good time here."
"Well, I AM NOT HAVING A GOOD TIME.
People that play magic just for the fun of it lies. Yes, yes they do. They might not care as much as the next person about losing though, and that's all mighty fine. That person is the better person in all this, no doubt. But if we all go about this like we are playing fucking UNO or Ludo- well, hey we're not five year olds. We are here to play a respectable card game. A game where every game is a new adventure! And ANYTHING can happen, almost. And look at the art man. Do that with your UNO.
So we play another game, and it's all good.
"Land, go."
"Land, Lotus, Mana Vault, Mox, Mind twist."
SMILES AND SHRUGS.
/Seb Celia